Upcoming Opportunities

Cargill is seeking second-year K-State students to apply for Cargill Fellows, a new program on campus in partnership with the Staley School of Leadership Studies. Join this unique and exciting opportunity to get to know Cargill and develop your leadership capacity!
What is in it for you?
$1000 scholarship
Guaranteed interview for an internship at Cargill for Summer 2019
Monthly one-on-one leadership coaching with a Cargill coach
Unique and exclusive networking opportunities with Cargill professionals
Site visits to area Cargill facilities, headquarters, plants, etc.
Leadership development rooted in industry values and expectations
Build relationships with your cohort during enrichment activities, case studies, diversity and inclusion seminars, retreats, etc.
Applications are due Friday, March 16th. Learn more here.
Grad Expo!
Who: For May and August Graduates
When: March 12th and 13th 10am-4pm
Where: K-State Alumni Center Banquet Room (100 Alumni Center, 1720 Anderson Ave., Manhattan, KS 66506)
Other info: Your one-stop shop for all your graduation needs. Graduation gowns, announcements, professional headshots (1pm-3pm both days), class rings, giveaways and much more! For the most up-to-date info on Grad Expo, go to www.k-state.com/gradexpo
Learn about the impact of food loss and its connections to important themes like climate change and the need to feed a growing world. Then, ideate potential solutions for these tough, interconnected issues with like-minded people in your community and win a chance to incubate your ideas at a paid event in the spring!
Free Food and
Ag

Issues!

The Department of Agricultural Communications and Journalism will be hosting a luncheon and informative session on efforts to expand rural access to high-speed wireless internet. As Kansas' only land-grant university, this uniquely affects K-State and our students should have a vested interest in this, as it will affect those you staying in Kansas, as well as your families. The luncheon is free and promises to be very informative. It will be held on at 12pm on Tuesday, March 13th in Waters 137.
MSA BBQ Contest
The Kansas State Meat Science Association will be holding 5th Annual BBQ Contest April 6th-7th. If you enjoy good food, great times and friendly grilling competition, then this event is right up your alley! The registration deadline is March 30th!
Download the registration form here.
Upcoming Upson Lecture Series
Mark your calendars for April 23rd at 6:00pm for the next Upson Lecture Series! Learn more here.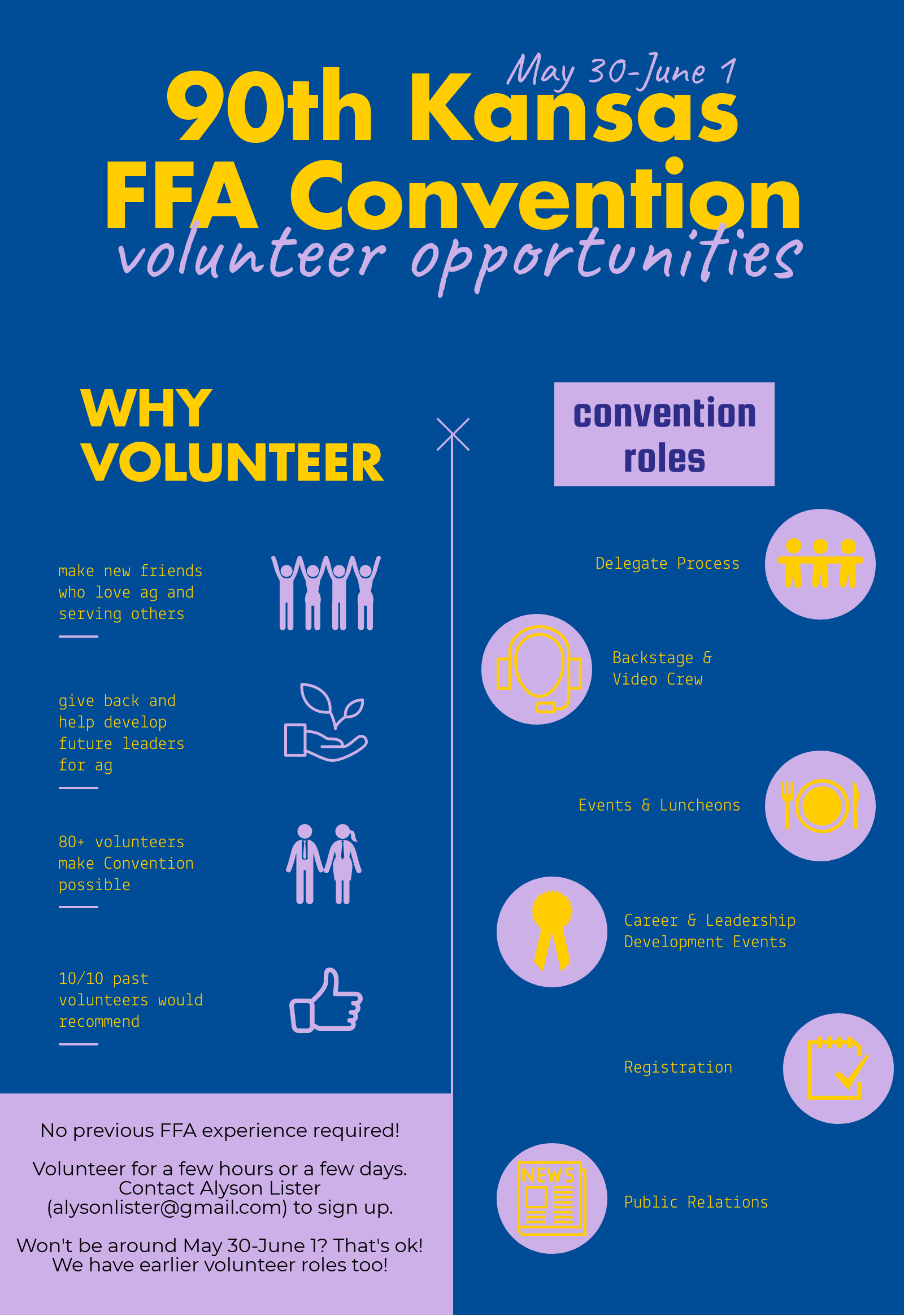 Scholarship Opportunities
MKC Scholarship Program
Every year, MKC offers scholarships to deserving high school seniors and college students from across Kansas. A total of ten scholarships will be awarded to high school seniors and ten scholarships will be awarded to returning college students for their second, third or fourth year.

To be eligible for a MKC scholarship, students must be planning to attend or return to an accredited university or college including a community, vocational or technical school. Scholarship applications will be accepted until March 15, 2018, and must be accompanied by a resume and essay on how has the cooperative system has impacted the community that you live in.
The Murray Wise Associates Foundation Scholarship
The Murray Wise Associates Foundation was created and funded to ensure that top students with leadership potential who wish to pursue careers in agriculture can do so. The Foundation accomplishes its mission by providing scholarship funds to college students. Awards will be based on demonstrated scholastic ability; leadership in school, church and community activities; and commitment to agriculture or related fields. Scholarship amounts will vary, but will generally be renewable annually for up to four years.
The deadline for submissions is March 31, 2018. Find the application here.
Hoegemeyer Cares Scholarship
Hoegemeyer provides four $500 Hoegemeyer Cares Scholarship awards to students who are attending or planning to attend a university or community college, majoring in an agriculture-related area. Students can be high school seniors entering into a university or community college or a student who is currently attending a university or community College. All applications must be submitted by April 1, 2018.
Feed Energy's "Excellence in Ag" Scholarship
Feed Energy will begin accepting applications for the "Excellence in Ag" Scholarship today. Two $2,500 scholarships will be awarded; one to an undergraduate recipient and one to a graduate recipient. Application deadline is May 7, 2018.
Sorghum Feed and Food Scholarship and the Darrell Rosenow Scholarship
The National Sorghum Foundation was established in an effort to aid and promote higher education in agriculture and more specifically to promote the study of sorghum and its impact on agriculture.
The National Sorghum Foundation will offer the Feed and Food Scholarship to :
University undergrad students (sophomore though senior standing)
Must be enrolled in an

ag

riculturally based department related to

Animal science (nutrition)
Food Science
With emphasis on sorghum.
Download the application here.
The Darrell Rosenow Award
This award is now in its sixth year and is in recognition of Dr. Rosenow, who contributed greatly since hybridization of the crop to improved germplasm with special emphasis on drought tolerance and disease resistance. Numerous improvements for yield and grain quality as well as biotic and abiotic stress resistance resulted from his accomplishments. A separate attachment relates to this scholarship with $1500 to be applied to the student's tuition.
Download the application here.
Future Female Leaders Scholarship
StudySoup works to support students as they find success through education. And as part of that mission, we're proud to stand behind female students who continue to break down gender barriers and move into crucial leadership positions. So we're offering a $2,000 scholarship to one outstanding female student who's exhibited extraordinary leadership skills and an ability to empower others. Applications are open until March 30th.
Job/Internship Opportunities
MKC Summer Internship Opportunity
MKC is looking for an intern for our Sumner County shuttle loader. It is going to be 100% grain operations with one of their best managers at their most state of the art facility. They are not able to provide housing down in that area.
BIA OTS Pathways Internship Program - Natural Resources, Forestry and Wildland Fire Management Programs
The Bureau of Indian Affairs (BIA), Office of Trust Services (OTS), is continually seeking scientists and technicians in STEM (science, technical, engineering, mathematics)-related disciplines to protect, conserve, utilize, and manage Indian forest and agricultural lands and resources. They are recruiting for several Internship positions working across various Agriculture and Rangeland Management or Forestry and Wildland Fire Management Programs. Students will also receive unique opportunities to raise their awareness of traditional ecological knowledge education and land-management practices in use today by Tribes nation-wide.
All of our Intern job vacancies announcements are posted to USAJOBS and can be found at https://www.usajobs.gov/Stu dentsAndGrads
Opening Soon! Student Trainee (Rangeland) position
Click Here to view the Student Trainee (Forestry) position
Click Here to view the Student Trainee (Fire) position
Production
Ag

riculture Job Opportunities with Seba Bros. Farms

Seba Bros. Farms currently has several employment positions open and are seeking skilled individuals to take on these roles. Below are the links for the three positions they are currently hiring for. These positions are Full-Time, however they do also have opportunities for internships!
Kentucky Equine Management Internship
The Kentucky Equine Management Internship is accepting applications for our 2018 Spring Session! The deadline to apply to Fall 2018 is April 30, 2018. Actual dates for the course are June 18 - November 30, 2018.
More information about the program and the application form can be found here.
Ag Careers E-Book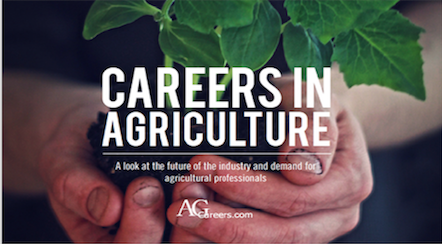 The Careers in Agriculture digital e-book is designed as a guide for students and young people considering their career opportunities by presenting them with a current, in-depth, thorough, and real view of the agricultural industry. All pages are equipped with interactive links including videos, further reading and more.
Check out the 38-page e-book online here.