Outreach
Connecting high school students with their potential at K-State
Tackling global and local challenges
Agriculture is and always has been much more than plowing fields and getting up early to milk cows. It's about science, economics, food and feed safety, plant pathology, sustainability and so much more.
There's no field that requires a greater breath of expertise and knowledge, more career options and opportunities than agriculture.
Learn about careers in agriculture, food, and natural resources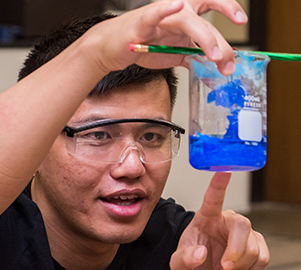 Expanding knowledge
K-State's College of Ag encourages middle- and high-school students to learn more about all agriculture offers, whether it's through  Ask an Expert, which brings K-State College of Ag faculty into middle- and high-school classrooms; or FFA, 4-H and the  World Food Prize programs.
Agriculture needs people from every background and with every of talent, skill and interest to come to the table to help tackle some of the global and local challenges we face.
For today's ag producers, business and industry leaders, K-State Research and Extension scientists, educators and volunteers are available in each of the state's 105 counties to provide the support and knowledge they may need.